When we travel to a new city, we enjoy finding a handful of family-friendly activities to do with our kids. Our young children most enjoy half-day activities that include things to see, interactive activities and a spot to eat lunch. Our visit to the Denver Museum of Nature and Science provided a great selection of exhibits for our kids to explore. Highlights of our visit included the Prehistoric Journey dinosaur and fossil exhibit, the life-like wildlife panoramas and the Gems & Minerals exhibit. We also saw an IMAX show about flight and a Planetarium presentation.


Prehistoric Journey
My tiny little boy was amazed to see the towering T-Rex skeleton that immediately greeted us at the entrance of the museum. We quickly planned our day with the help of a very friendly museum guide and picked up tickets for the IMAX and Planetarium.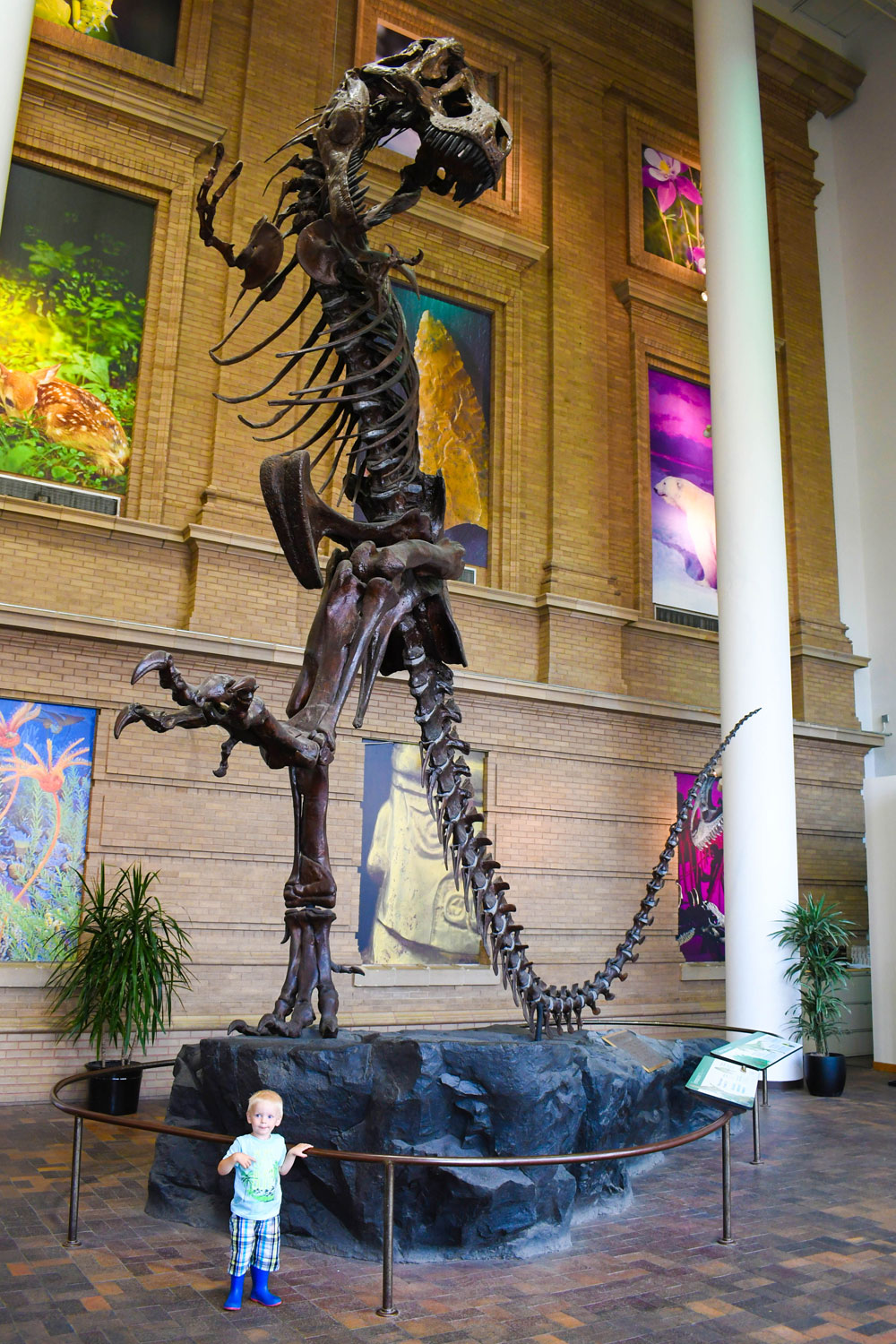 The Prehistoric Journey exhibit took us back to the past into a world of dinosaurs and a completely different ecosystem on earth. We enjoyed seeing which creatures lived in each area, as identified by their fossils found by archaeologists. It was also cool to learn that current archaeological work is taking place to uncover and catalog more prehistoric creatures.
3D IMAX Show
Next we saw an IMAX show about flight which gave us an in-depth look at how the ability to fly impacts the lives of dragonflies, sea birds, bats and even some types of amphibians. My kids love watching nature shows at home. The gorgeous, minuscule detail shown in the IMAX cinematography was even cooler in 3D! The IMAX presentations are about 40 minutes long so they are ideal for kids who are old enough to sit through an entire show. The museum always has a variety of IMAX shows scheduled on various topics. Other shows that were playing during our visit included America's Musical Journey 3D, Jerusalem 3D and Pandas 3D. You can purchase IMAX tickets for each scheduled show at the museum's front desk.
After the IMAX, we grabbed a few drinks at the Coffee Lab and headed over to the kids' Discovery Zone. This was our kids' favorite section of the museum. The Discovery Zone features a sensory water play area, archaeology dig play area, dress up corner with insect and butterfly wings, and spots to climb and crawl through a small cave. The whole area is very colorful and interactive. Another room in the kids' area has tables with matching and building activities, a kids' digital drawing table, play ice cream station and boxes with large colorful glowing pins kids can use to make light-up designs. My young children had a lot of fun exploring the activities in the museum's Discovery Zone.
Kids can engage with water play tables in the museum's Discovery Zone, designed for kids ages 3 to 5.
My daughter had fun painting designs on this interactive digital drawing board.
A box of dress up outfits in a corner held butterfly wings, insect costumes and dinosaur tails.

Kids can dig for fossils in the archaeology dig play area. The Discovery Zone at the Denver Museum of Nature and Science was definitely the highlight of our visit!
Egyptian Mummies
Another exhibit at the Denver Museum of Nature and Science displayed several mummies and facts about Egyptian embalming, traditions and history. It was fun to introduce my young kids to the Egyptian culture and give them a snapshot of ancient history, especially since I've personally been to Cairo, Egypt and have seen the pyramids, the Spinx and visited the Egyptian Antiquities Museum. This informative exhibit included several mummies and their known histories as well as colorful sarcophagus designs and artifacts. Exposing kids to simple history at a young age (my oldest is in 1st grade) creates building blocks for the future!
Wildlife Panorama Exhibit
My kids also enjoyed seeing the life-like wildlife exhibits showing taxidermied animals from different habitats. Like three-dimensional postcards from places near and far, the museum's wildlife scenes capture moments in time, showcasing the world's amazing animal species and the delicate ecosystems in which they live.
Gems & Minerals
My girls' favorite exhibit was the Gems & Minerals displays showing a diverse collection of rocks, crystals and mining techniques and locations where gems have been found. My girls mostly looked at all the glittering colors but each mineral specimen was labeled with facts about it's origin and composition. I thought it was absolutely incredible how many different types of rocks and minerals exist in such a gorgeous variety of colors, textures and shapes. My girls enjoy collecting rocks and exploring and they wanted to walk though the cavern section of the exhibit several times.
This colorful display is just one of the many gems and minerals collections exhibited at the Denver Museum of Nature and Science.
Space Odyssey
Our final stop gave us a glimpse into the vastness of space. We learned just how far scientists have probed out into the cosmos to measure the galaxy and how they estimate and catalog the number of stars. The museum's Space Odyssey is also where the Planetarium is located where you can watch 360 degree presentations about the mysteries and wonders of space.
My daughter wasted no time dressing up as an astronaut and sitting in her spaceship, preparing for launch.
During our visit the Planetarium was showing several films including:
Black Holes: The Other Side of Infinity
One Sky: Big Bird's Adventure
Cosmic Journey: A Solar System Adventure
Space Tours Live
Passport to the Universe
Like the IMAX, Planetarium tickets must be purchased separately and scheduled in advance.
Overall we really enjoyed our visit to the Denver Museum of Nature and Science and we were able to see quite a lot before our kids began getting tired. If you are visiting the museum with young kids, I would recommend prioritizing the exhibits you want to see most so you don't miss out on the highlights.
The dinosaur Prehistoric Journey and Gems & Minerals exhibit were the most engaging museum exhibits for our kids. We broke up the exhibit tours with a visit to the kids Discovery Zone so our children enjoyed a break and got a chance to play. We made it to one 40-minute IMAX show as an entire family which was engaging for the kids and fun to wear 3D glasses. We also stopped for lunch at the museum's cafe towards the end of our visit and bought the kids soft pretzels.
The Denver Museum of Nature and Science is a great way to spend time together as a family and we really enjoyed stopping by on our family road trip. The exhibits offer lots of things to learn and interesting topics to discover. We would definitely go back again!
Hi, I'm Katie! I live with my husband and 3 kids in Coeur d'Alene, Idaho. I love Jesus, coffee, creative projects, taking photos and traveling. I've previously worked as a web designer, journalist and barista. I hope you enjoy our creative projects and family adventures!