A trip to a children's museum is an easy destination for a memorable family day. We really enjoyed stopping by the Children's Museum of Denver at Marsico Campus on a road trip through Colorado. Our kids spent a fun-filled afternoon climbing, role-playing and exploring! Here are some of our visit highlights.
Wooden Climbing Structure
My toddlers especially enjoyed exploring the Children's Museum of Denver wooden climbing structure, which you see shortly after entering the museum. This "Box Canyon" activity is especially fun for young kids who love to climb and crawl through tunnels. The wooden play area includes a combination of steps and tunnels, designed for kids ages 1 to 4.
Prep Kitchen and Farmer's Market
The play kitchen area was one of my daughter Kiera's favorite interactive spaces at the Children's Museum of Denver. She had access to lots of kitchen utensils, pretend food, pots, pans and kitchen essentials. Kiera had a blast taking orders and serving up pretend entrees and appetizers. Play spaces like this kitchen often inspire kids' imaginations.
Next to the play kitchen, kids can shop at the pretend farmer's market or sell produce to customers. The labeled bins of food were filled with pretend fruits and veggies. The details of this play farmer's market are just adorable, complete with a cows backdrop, scales for weighing food and little shopping baskets.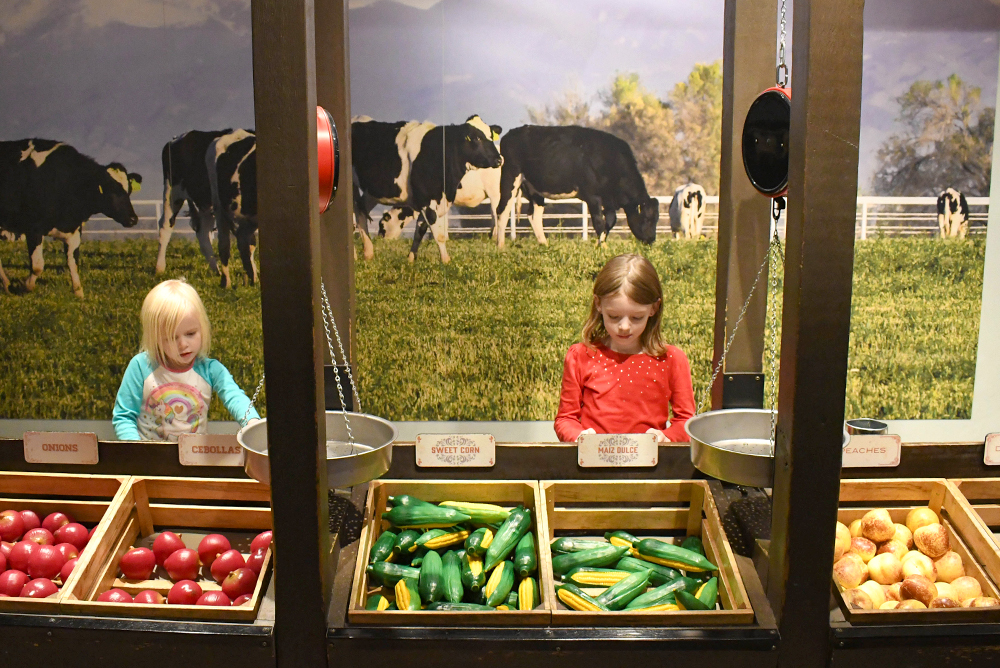 Fire Station & Vet Clinic
In another corner of the Children's Museum of Denver, kids can pretend to be firefighters. They can sit in the fire truck, dress up as a firefighter and slide down the fire pole. My kids also loved cuddling with the stuffed Dalmatian lounging on a firefighter's cot.
In the next room, my daughter explored all the tools and tried on a uniform at the vet clinic. Trays of important veterinarian tools are ready for kids to examine stuffed animals, while holding a clip board and wearing a smock. This kid-friendly vet clinic has everything to really inspire imaginative play.
Recycle Assembly Plant
Of course, my kids always love hands-on projects. They found no shortage of tools, materials and simple project instructions at the Recycle Assembly Plant. Kids can practice hammering nails into wood and making simple contraptions.
It's important for kids who are hard at work to wear safety glasses and learn how to carefully use the tools. Because kids are using real tools, we helped our kids successfully use this area of the children's museum and gave them a few tips. Kiera and Sylvie got to try some new things in the workshop and they had a lot of fun!
Bubbles, Lights & Water Play
In other areas of the Children's Museum of Denver, kids can play with bubbles and create designs with light. The children's museum offers both exhibits to observe and activities to try out. This Big Bubble machine automatically creates huge bubbles using air and a massive bubble wand.
Kiera really enjoyed moving these oversized Lite-Brite pegs to create designs on this interactive wall. Each peg lights up when pushed into a hole on the wall.
3-year-old Joshua especially liked playing at the water table area and experimenting with mechanical water power. The Children's Museum of Denver has some great activities for teaching kids about science through play!
We had a great time at the Children's Museum of Denver. The activities were perfect for our kids who were ages 6, 4 and 3 at the time of our visit. Our kids spent time exploring each section of the museum and really enjoyed the combination of climbing areas, interactive play spaces and hands-on activities. We'd definitely go back again!
Hi, I'm Katie! I live with my husband and 3 kids in Coeur d'Alene, Idaho. I love Jesus, coffee, creative projects, taking photos and traveling. I've previously worked as a web designer, journalist and barista. I hope you enjoy our creative projects and family adventures!