Setting up a food taste test is a fun way to teach a preschooler about the sense of taste from the 5 senses. I remember doing taste tests with my mom. It was always an adventure to try different foods and associate them with sweet, salty, spicy, sour, and bitter flavors. I was always excited to try something new; often "bitter" baking chocolate or "sour" salt and vinegar chips. I did a preschool taste test with my own daughter the other day after lunch; not only was it yummy, it was fun and educational too!
It can be hard to entertain 3 and 4-year-olds. My daughter loves jumping from one activity to the next; sometimes before I've had a chance to clean up from the previous craft. I love my daughter's enthusiasm and creativity, so it's a lot of fun to plan things to do with her, like a preschool taste test! I set out a few ramekins and chose a variety of foods that represented each type of "taste". You can get really creative with the foods for a preschool taste test!
Pin this to Pinterest
Preschool Taste Test
Sweet: marshmallows, a vanilla wafer, chocolate chips
Sour: gummy worms, crystal ice powder, salt and vinegar chips, lime
Salty: potato chips, fish crackers, cheetos, pretzels
Spicy: salsa, gumdrops, hot sauce, altoids
Bitter: baking chocolate, horseradish, mustard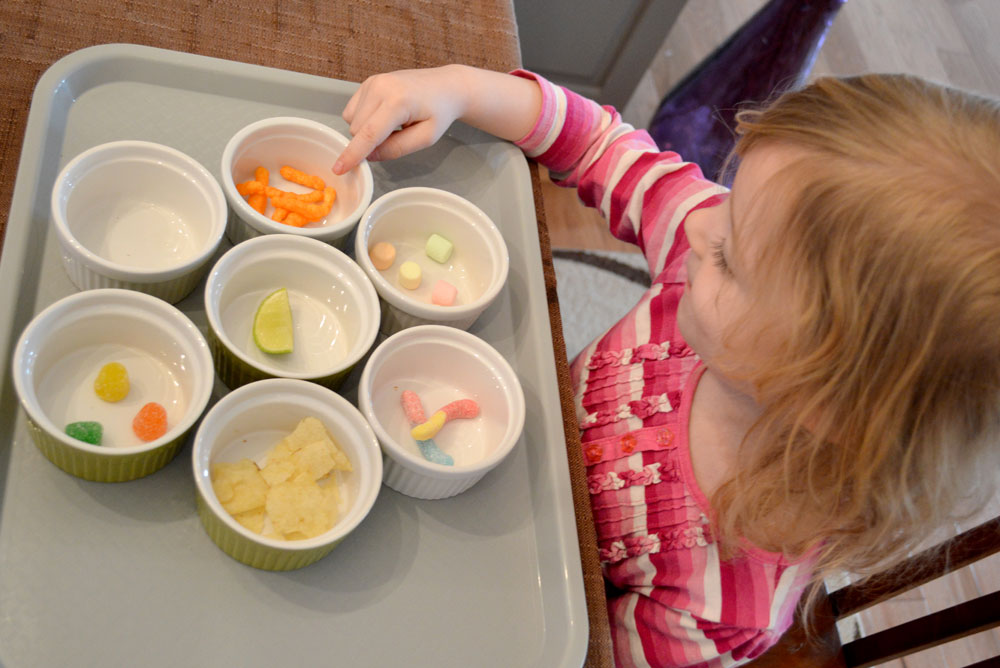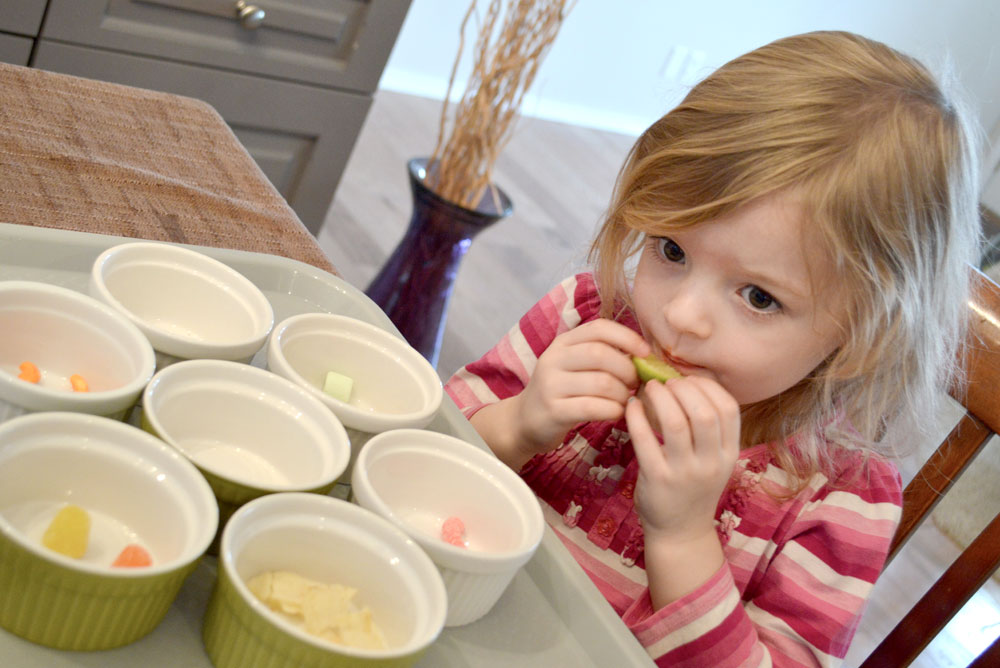 During your preschool taste test, you can also talk through flavor combinations. Gumdrops are both sweet and spicy, and salt and vinegar chips are salty and sour. My 3-year-old was a good sport to try everything; after all the game is to try the flavors and identify them. This could be a great activity for helping kids become more adventurous eaters. Ask them to try something new and ask them what flavor they taste; sweet, salty, spicy, or sour?
After my daughter tried everything, she identified each item with labels I made with paper. She wasn't such a fan of the gumdrops and horseradish, but was able to label them as "spicy". Other identifications included salty cheetos, sweet chocolate, and a sour lime wedge.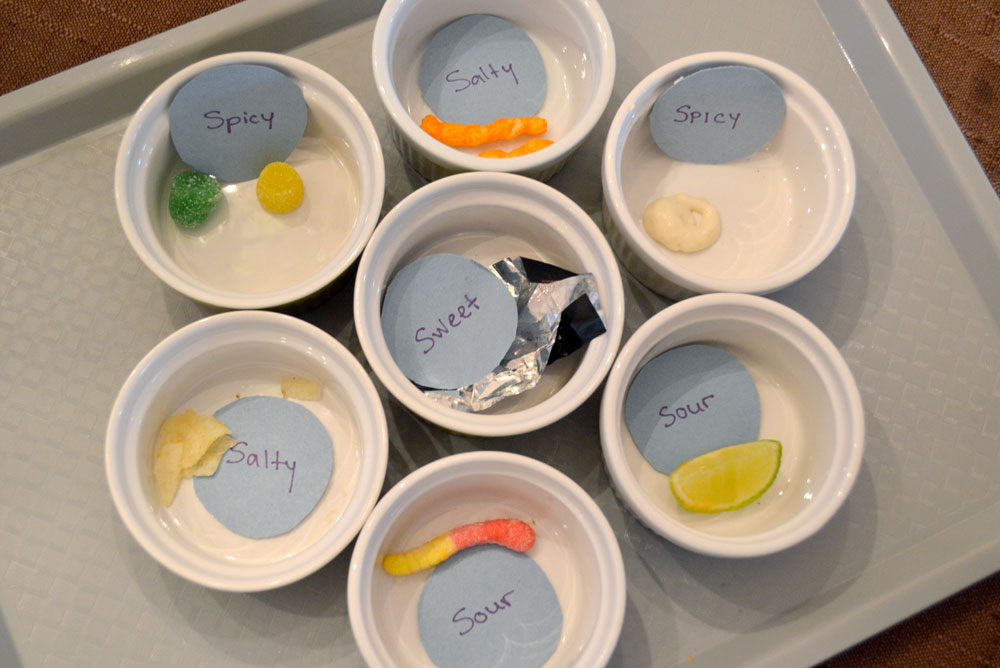 We saved our labels for future taste tests. Now my 3-year-old knows all about the sense of taste, and how different parts of the tongue allow us to experience different tastes. A sensory kids' taste test is a fun way to turn a boring afternoon into an educational activity!
Taste test round two: Salty cheese, cheese-its, and cracker. Sweet malt balls, blueberries, and jello. Sour Warhead candy and bitter mustard. Spicy onions and olives.
Lunch Taste Test
Turn a fun taste test activity into lunch with more selection and larger portion sizes. My girls love having taste tests for lunch, I think because of the variety of foods they get to enjoy.
Colorful Snack Stacks
If you are looking for the perfect snack time container, Re-Play Snack Stacks are very handy! I love the different colors we can mix and match or each child can choose their own color. Plus they are made in the USA from recycled milk jugs!
Snack Stacks can be stacked as high as you want, or used individually to take one snack along in the car or stroller. They also make great snack cups if you remove the tops and they hold a perfect portion size for toddlers.
Things To Put In A Snack Stack
Crackers
Raisins
Trail Mix
Veggie Straws
Banana Chips
Dehydrated Fruit
Nuts
Yogurt Dipped Pretzels
Popcorn
How do you make learning about the 5 senses fun for your kids? We'd love to hear your ideas shared in the comments. And if you have an open afternoon, plan a little taste test for your kids. They will have fun learning about the sense of taste and trying something new!
Hi, I'm Katie! I live with my husband and 3 kids in beautiful Coeur d'Alane, Idaho. I love Jesus, coffee, DIY projects, photography, homeschooling my kids, traveling, and serving people. I've previously worked as a graphic designer, web designer, journalist and barista. I started Create. Play. Travel. to share some of our creative projects and family adventures.  I hope you enjoy the highlights of our creative family life!