Rainy days are perfect for going to a museum and learning about history. Our recent trip to Washington took us to the Seattle Museum of Flight where we learned about the history of aviation and saw lots of airplanes. My kids enjoyed sitting in fighter jet cockpits and wandering through the spacious airplane exhibits. I enjoyed learning about some of the details of World War I and World War II and looking at historical photographs. A family could easily spend an entire day at the Seattle Museum of Flight, get lunch at the cafe and watch one of the IMAX presentations. The Museum of Flight is a great Pacific Northwest family trip destination.
We received complimentary tickets to the Museum of Flight in Seattle. All opinions are our own.
We used to live in Seattle and we've visited the Museum of Flight several times. Each visit we've enjoyed the airplane exhibits and learned new details about the Seattle area's influence in the aerospace industry. Now it's fun to take our young kids back and show them big airplanes up close. As they get older, our kids will be able to learn more about how aviation has impacted our nation's history. The Seattle Museum of Flight exhibits cover a little bit of everything.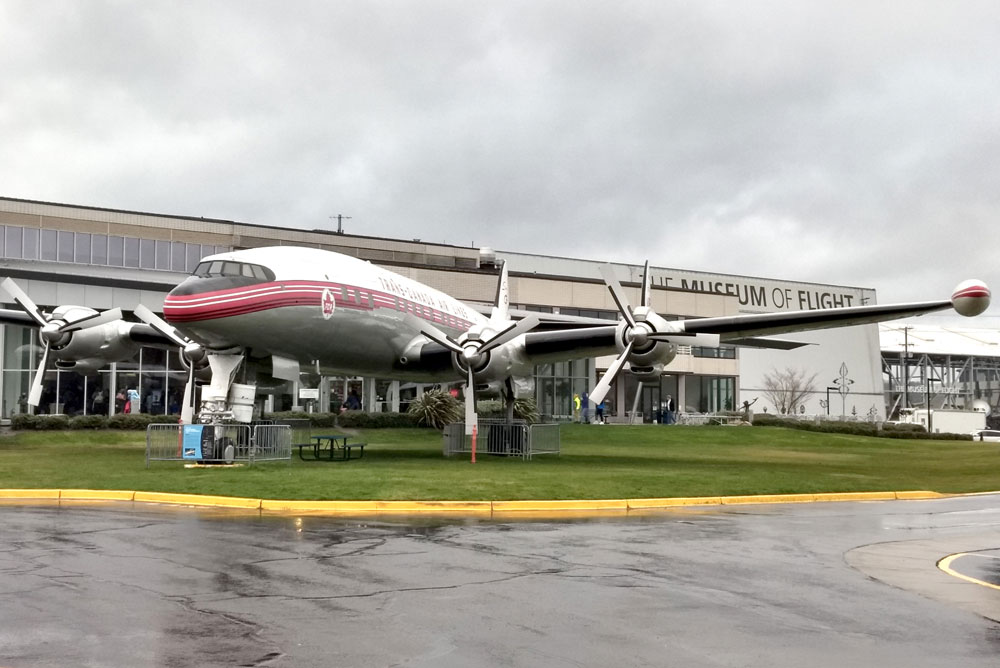 Kids' Flight Zone
Once of our first stops at the Seattle Museum of Flight was the Kids' Flight Zone, filled with aerospace activities designed for kids! Interactive displays explain how airplane engines work, how hot air balloons rise and how a plane gets lift. My kids enjoyed making a star shade at the kids' activity station by cutting out a paper shape and decorating it with markers.
The Kids' Flight Zone is an engaging and enclosed space with room for kids to freely roam and try all the aviation-inspired exhibits.
An engine exhibit in the Kids' Flight Zone combines pictures and illustrated graphics with an interactive light-up engine demonstration that shows kids how jet engines use air and fuel to propel an aircraft forward. I thought this exhibit was neat because it demonstrates that air is a compressible medium that can be used to lift extreme weight like an entire airplane. Kids may think that air seems weightless so this exhibit is a great visual way to explain how air molecules work and how pressurized and heated air is used to make flight possible.
Aerospace Activities for Kids
Another interactive display allows kids to use a flight control lever to maneuver the angle of an airplane. Just like a pilot directs an airplane using the flight controls and wing flaps, kids can see that cause and effect motion in action.
My little guy enjoyed sitting in the prop plane in the Kids' Flight Zone. Maybe someday he will fly a plane on his own, who knows?
Seattle Museum of Flight Airplane Exhibits
The Seattle Museum of Flight is home to lots of restored aircraft from a range of historical time periods. The T. A. Wilson Great Gallery contains 39 full-size historic aircraft within the six-story exhibit hall. You can learn about the details of each aircraft and exactly where they fit into history. And of course, it's always fun to sit in a fighter jet.
Visitors can climb into the cockpit of a real SR-71A Blackbird reconnaissance plane or a full-scale mock-up of an F/A-18L Hornet fighter in the museum's Great Gallery. The Boeing Company F/A-18 Hornet is a frontline fighter and attack-bomber currently in use by the U.S. Navy and Marine Corps.
Control Tower Tour – Another exhibit allows visitors to view a room designed to look like a replica of inside a control tower. My kids enjoyed pushing buttons and looking at the instruments used to chart and follow flight paths.
Flight Simulators – You can pay a little extra to experience the Premium i360 Flight Simulator, 4D-X Simulator Ride, or Junior Voyager Simulator to feel the thrill of flight without going anywhere. Learn more about the flight simulator attractions here.
IMAX Experience – The Museum of Flight also offers regular showings in the 3D Movie Theater. Families will love experiencing the vastness of space or high speed velocity of flight in 3D!
World War I & II Exhibit
I especially enjoyed the World War I & World War II exhibits highlighting the advancements and achievements of aircraft during times of conflict. World War I planes were much simpler and made to accomplish specific objectives, often quickly produced to meet the demands of war. Later planes used in World War II look similar to our modern aircraft and often were designed using technology that was developed throughout the wars. The Museum of Flight's war exhibit highlights countless stories of individual people, momentous events and the harrowing realities the wars created. I appreciated all the black and white photographs scattered through the exhibits which added visual detail to the historical accounts.
Seattle Museum of Flight Space Gallery
After the war exhibits, we walked across the sky bridge and visited the Space Gallery.
The highlight of Seattle's Museum of Flight Space Gallery is the NASA Full Fuselage Trainer which you can walk into and see up close.
The NASA Full Fuselage Trainer is a full-scale mockup of the space shuttle orbiter, without the wings. It was used for testing upgrades and for training astronauts. It often took at least a year for astronauts to train, depending on their mission objectives. Each crew spent up to 100 hours training in 20+ separate classes.
The Charles Simonyi Space Gallery also includes multi-sensory exhibits that emphasize stories from the visionaries, designers, pilots and crews of the Space Shuttle. Each space exhibit is designed to educate and inspire all ages.
Museum of Flight Cafe & Gift Shop
After walking through many of the Seattle Museum of Flight exhibits and keeping up with our kids, we stopped for lunch at the museum cafe. The cafe offers a variety of menu options with plenty of choices that kids will like. We enjoyed some sandwich wraps and a soft pretzel.
No museum visit is complete without a stop by the gift shop to pick up a souvenir or a space-themed Lego set. My kids took turns trying on play astronaut helmets. Overall we really enjoyed our visit to the Seattle Museum of Flight and we look forward to coming back!
The Seattle Museum of Flight is a great destination for a family trip to Seattle. When we were locals we enjoyed visiting the museum to learn more about the aerospace history of the Seattle area. The Museum of Flight offers an engaging collection of rotating exhibits that families with kids any age will appreciate. The Aviation Pavilion, flight simulators, Control Tower tour, 3D movie theater and Kids' Flight Zone just name a few!
Hi, I'm Katie! I live with my husband and 3 kids in Coeur d'Alene, Idaho. I love Jesus, coffee, creative projects, taking photos and traveling. I've previously worked as a web designer, journalist and barista. I hope you enjoy our creative projects and family adventures!