Add beautiful color to your windows with these DIY hot air balloon suncatchers! Kids will enjoy picking out their favorite tissue paper colors. Easily download our printable hot air balloon template and get creative with this fun kids craft.
Materials Needed
printable hot air balloon template (below)
white card stock
scissors
black marker
parchment paper
craft glue
colored tissue paper
piece of colored cardstock for the basket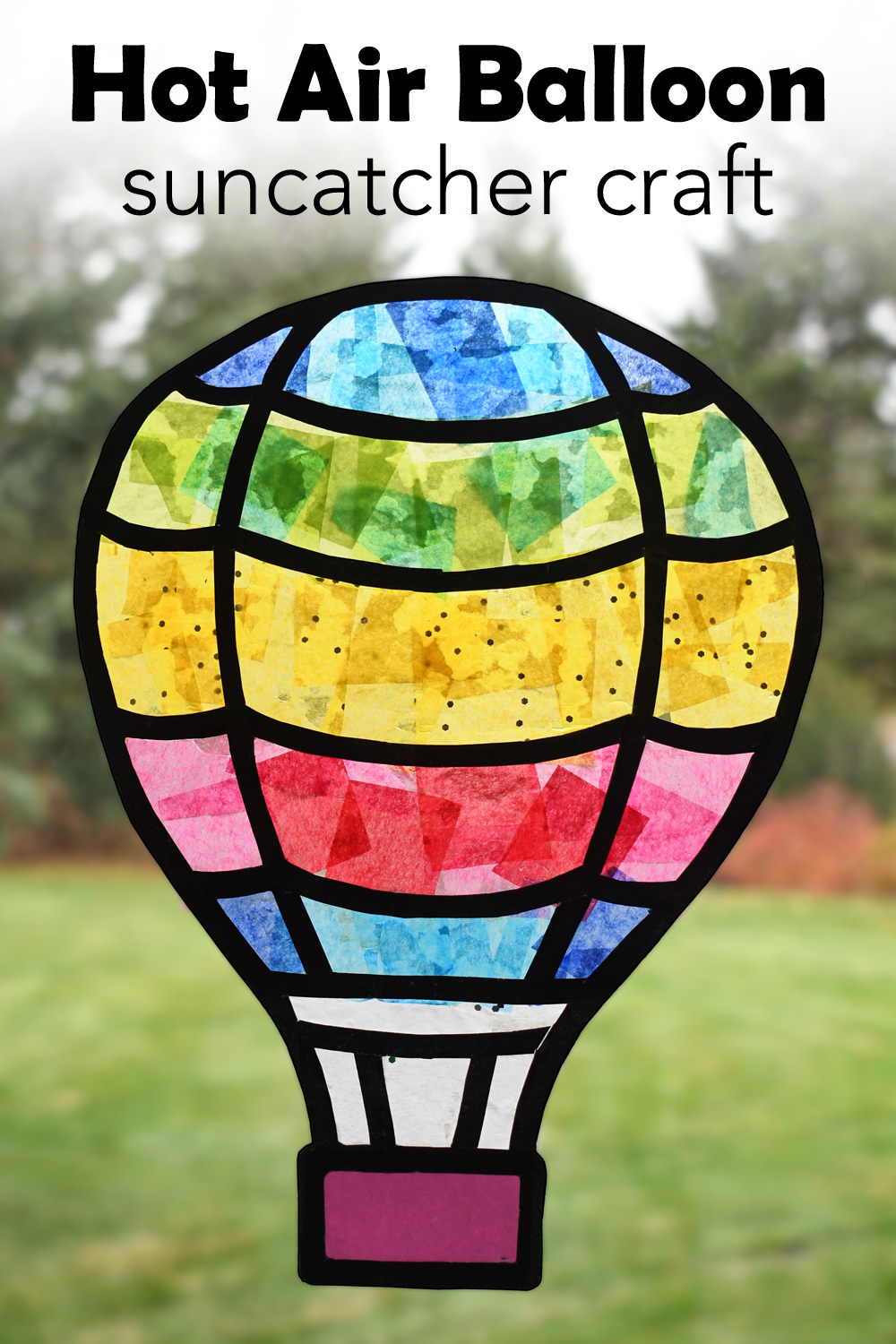 Kids can design a hot air balloon suncatcher using any color of tissue paper. First, print off the hot air balloon printable template onto white cardstock. Next, use small scissors to cut around the black template lines. If you end up with a bit of white paper showing along the black template edges, you can easily fill in the white with a black Sharpie or marker.
Cut out the Hot Air Balloon
Cutting out the hot air balloon template is the most time consuming part of this DIY suncatcher craft. However, kids can practice their scissor skills and attention to detail while cutting along the lines. Use smaller scissors to make it easier to cut out the hot air balloon suncatcher outline.
It's ok to cut through some of the template lines to cut out the smaller sections. This is because the glued on tissue paper will also reconnect these pieces and reinforce the whole balloon design. Just make sure all the hot air balloon black lines are neatly cut out and left intact.
Create a Pattern with Colored Tissue Paper
Now comes the creative part of this kids suncatcher craft! First, place a piece of parchment paper onto your workspace. This will prevent the hot air balloon suncatcher from sticking when you begin gluing on the tissue paper. Flip the hot air balloon over so the white template outline is face up. The white side is the side you will glue small tissue paper squares onto.
Next, use small dabs of craft glue to attach colored squares of tissue paper onto the white side of the balloon outline. The more tissue paper you overlap, the brighter the colors will be when the sun shines through. Additionally, you can layer different colors of tissue paper to create other color hues, sort of like mixing colors.
Use white tissue paper to fill in the space between the basket and the balloon. This will resemble the open space where the ropes attach the balloon to the basket. Finally, use a piece of colored cardstock to cover the basket. This will add a pop of opaque color to the basket of your hot air balloon suncatcher.
Layered Tissue Paper Colors
For my hot air balloon suncatcher, I used a different color of tissue paper for each vertical level of the balloon design. I mixed and matched similar shades of tissue paper to add color depth to the design. I started with aqua and dark blue at the bottom of the balloon. Next, I layered red and pink squares of tissue paper. For the next level I used yellow tissue paper with flecks of glitter in it. On the 4th level of the balloon, I used green with some added squares of blue to create darker green. For the top of the balloon, I used blue and aqua squares of tissue paper.
To complete the suncatcher, I used white tissue paper to cover the ropes section and pink cardstock to make the basket. I really love how this colorful hot air balloon suncatcher turned out!
Hot Air Balloon Suncatchers Printable Template
Easily download this printable template! Right click on the image and select "save image as", and save the file to a folder on your computer. Print it on an 8″ x 11″ piece of white cardstock.
Colorful Hot Air Balloon Sun Catchers
Overall, kids and adults will love designing these colorful hot air balloon suncatchers! These are beautiful decorations to use for a birthday party or to decorate playroom or a school room.
Which colors will you choose to design your own hot air balloon suncatchers?
Hi, I'm Katie! I live with my husband and 3 kids in Coeur d'Alene, Idaho. I love Jesus, coffee, creative projects, taking photos and traveling. I've previously worked as a web designer, journalist and barista. I hope you enjoy our creative projects and family adventures!