Feeling crafty? A creative project can be the perfect solution for decorating a bedroom, nursery or play room. We love designing homemade garlands and colorful paper wall art. A whimsical paper hot air balloon is fun to create and decorate. You can design your own paper hot air balloon using our free paper template!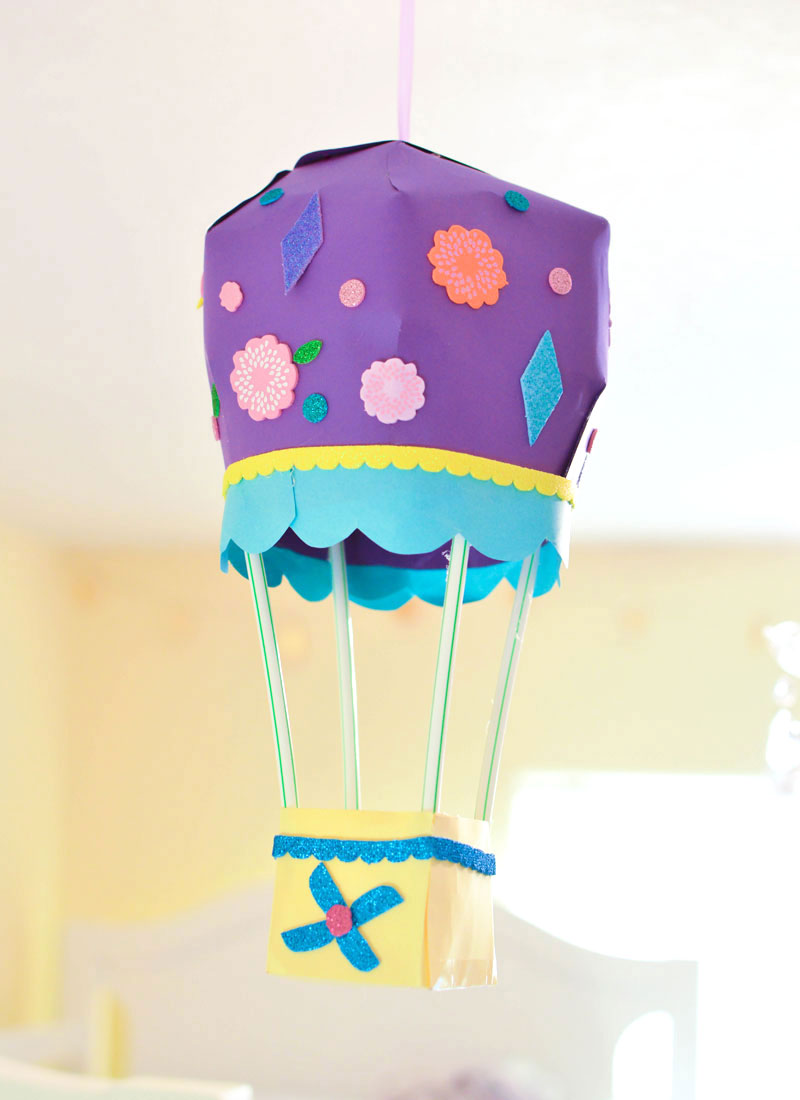 To make a DIY 3D paper hot air balloon, print off the paper template below by right clicking and selecting "Open image in a new tab" or "Save image as". Print off the paper template and use it to cut out 2 copies of the template shape on colored card stock. Once you have your paper template cut out, you are ready to craft a DIY paper hot air balloon!
Whimsical DIY Paper Hot Air Balloon
Supplies:
Colored card stock
Glitter paper
Colored foam sheets
Stickers
4 straws
Scissors
Hot glue gun
Instructions:
Cut out 2 copies of the hot air balloon fluted shape using the paper template outline. Cut along the vertical lines along the bottom of the template to create the panels that you'll use to form the 3D hot air balloon shape. Attach the two template shapes together along the edge to make a long strip of fluted panels.
Overlap the fluted panels along the top edges and hot glue in place one at a time to create a globe shape. The vertical slits along the bottom edge will allow you to tighten the bottom of the globe shape. Slightly overlap the vertical slits and hot glue the edges in place.
Next, you're ready to create the hot air balloon basket. Cut out a long rectangle shape with a square below. You can fold a paper in 4ths and cut the rectangle shape, leaving an extra square beneath to create the bottom of the basket. I didn't make a template for this because the basket size can differ, or you may want to make a rounded basket with 5 sides.
Once you've created a basket-like box, hot glue a straw to each corner and attach it with hot glue to the hot air balloon globe. Make sure the straws are evenly spaced and firmly attached to the hot air balloon.
Decorate your Paper Hot Air Balloon
Next you can decorate your 3D paper hot air balloon! We used small colored foam shapes, glittery paper, thin decorative tape and stickers. You can be as detailed as you'd like! A hot air balloon designed by an adult will be much different because of skill and attention to detail than a 3d paper hot air balloon that's decorated by a child. You can easily customize this crafty paper project however you'd like.
Arrange and attach stickers, rhinestones and foam shapes using hot glue which will stick much better than craft glue. If your child is decorating the balloon, you can help them with the hot glue. Decorate your paper hot balloon to match your child's bedroom, coordinate with a party theme, or show off a style all your own! This paper hot air balloon would look so cute alongside a felt pennant banner.
My daughters decorated a paper hot air balloon for their bedroom and we suspended it from the ceiling with ribbon and a push pin. You could make this cute hot air balloon decoration for a baby's nursery, themed birthday party or whimsical baby shower. Kids can even play with their DIY hot air balloon and put a small doll inside the basket. It's always fun to create something pretty and design custom decor. We hope you enjoy making your own paper hot air balloon!
Hi, I'm Katie! I live with my husband and 3 kids in Coeur d'Alene, Idaho. I love Jesus, coffee, creative projects, taking photos and traveling. I've previously worked as a web designer, journalist and barista. I hope you enjoy our creative projects and family adventures!